For lovers of class and luxury, what is more luxurious than driving a supercar around Catalonia? From Ferrari to Maserati, for hours or days, there is much available. Renting a car also gives you the opportunity to further explore Catalonia, the mountains, the Mediterranean sea, the beautiful countryside. Explore the Catalan coast; Sitges, Cadaqués, Costa Daurada or Tossa del Mar. Renting a supercar gives you the opportunity to spend a day outside the city and enjoy Catalan culture.
You can even arrange for the car of your dreams to be waiting for you when you arrive at Barcelona airport, or the chosen location of your choice. You can customize your car by type, make, fuel, equipment, seats, and handling, to truly make it your perfect car. Take your prestige car to Park Güell to see one of the most impressive parks in the world and enjoy the panoramic view of the city. Take advantage of the comfort of your luxury car and enjoy Barcelona and its surroundings to the fullest.
Here are the best luxury car rental agencies in Barcelona.
Barcelona luxury cars
Whether it's a BMW, Ferrari, Porsche or Lamborghini, or a Jeep Wrangler, Luxury Cars Barcelona has all this and more! On their website you can find all the cars they offer, for example, if you are looking to rent a Ferrari 488 spider, you can do it for €1,200 per day. To apply you must give details of your name, email, passenger number, pick-up location and destination. Luxury Cars Barcelona is the leading company in the luxury car rental service and they are ideal for trips and special VIP events, transportation from the airport and for special occasions. They have a personalized, responsible and detailed service that ensures the constant satisfaction of their customers.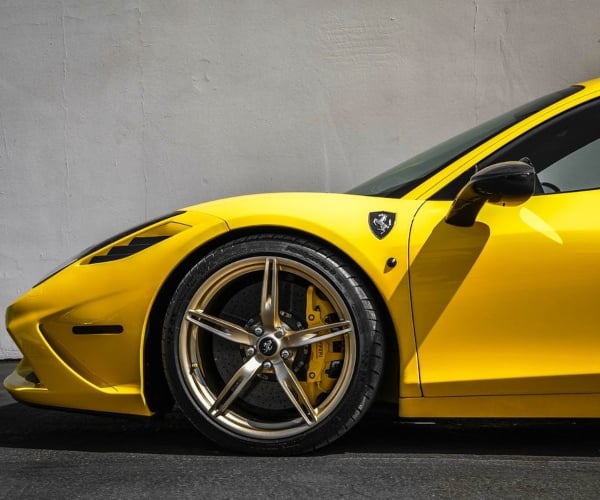 conductor
Driverso is another leading luxury car rental agency in Barcelona, ​​they have a simple three step process for you to choose the car of your dreams. First of all, you choose from what is available on their website, this includes everything from mustangs to Lotuses, Teslas, Rolls Royces and much more. You then reserve the car you want, with the flexibility to change your mind up to 3 days before the start of the rental. Subsequently, the service provider will contact you to clarify the details of the delivery, and the car will be delivered to the place you want at the requested date and time. Their website is very clear and gives you all the information you need to rent a luxury car and all the documents you need to do so.
luxury car rental
Rent Luxe Carstyle is a premium car rental service that rents out Audis, Bentleys, BMWs and much more. Their website has cars available to rent by the day from €190 and many cars to choose from. With just your license and ID, you can select the luxury car you would like to rent by clicking on your favorite model to get more information about it. Press 'rent now' on the car of your choice, fill in your information and submit. That's all you have to do to rent a luxury car.
Elite Income
If you are looking for an even more luxurious service, with the option of high-end limousines, chauffeur services, driving tours and prestige car rentals. This is also one of the few luxury rental services that has made zero emission electric vehicles available for hire. They have been around since 1987 providing exceptional vehicles with impressive comprehensive service. You can choose from over 600 luxury vehicles, specifying the model and color of the car, as well as the exact location where you want it delivered. You can also experience chauffeured services in luxury limousines with highly qualified drivers. Elite Rent is the perfect company for an extremely prestigious getaway.
---
IMPORTANT NEWS:
If you are reading this article somewhere other than A Luxury Travel Blog, then this content was most likely stolen without permission.
Please make a note of the above web address and contact A Luxury Travel Blog to let them know about this issue.
Thank you for your help in the fight against content theft.
---
rental cars
Rentium cars is another company specialized in the rental of luxury vehicles and sports car services in Spain. They also rent cars in Portugal, Andorra, France and Monaco. Rentium has years of experience and the opinion of its clients that represents them as a leading company in the luxury automobile sector. They offer some of the most luxurious vehicles owned by prestigious brands and have the newest models on the market. They offer delivery and collection anywhere in Europe. Rent a convertible Ford Mustang here from just €400 or a Ferrari Portofino for €1,500. This is the company to go to if you want them to take care of every detail so all you have to worry about is enjoying their luxury vehicles.
DrivemeBarcelona
Driving the supercar of your dreams couldn't be easier with drivemebarcelona. They not only offer a rental service, they have city tours, experience packs and road routes. For the city tours they give you a route, be it Barceloneta, Montjuic or Tibidabo. The routes vary from 20 to 90 minutes and are designed for you to enjoy driving a supercar with an expert guide by your side. For the experience packages, you will find amazing packages that give you the opportunity to drive a supercar but also experience another exciting activity. They offer a boat ride, a helicopter ride or a jet ski ride. The perfect idea for a day full of adrenaline. The available road routes give you a better opportunity to experience driving a supercar. The routes can include both the Penedès and the Vineyards, Sitges and the Coast, as well as Montserrat and the Mountain. They are all 4 hours long and cost €799. The company also has circuits and virtual realities for those who want to try something different.
Sandra Roig is Marketing Director of AB Apartment Barcelona. AB Apartment Barcelona is an apartment rental agency that offers more than a thousand short-term and long-term apartments in Barcelona.
If you would like to be a guest blogger on A Luxury Travel Blog to enhance your profile, please contact us.