By Paul Eyers on Mar 19, 2022 in Accommodation, Air Travel, Asia, Attractions, Cambodia, Going Out, Health & Safety, Regions, Resorts, Special Trips, Travel Misc
First, I hear you ask, what is the first country in Southeast Asia to remove all COVID restrictions? The answer is Cambodia, which on March 17, 2022 jumped ahead of its neighbors and other Southeast Asian countries in making travel simple again.
No pre-trip COVID test. No COVID test on arrival. No quarantine. No specific COVID insurance.
Quite simply, vaccinated travelers can arrive by air, sea or land, receive a visa on arrival and enjoy all that 'The Kingdom of Wonders' has to offer. Other countries in the region, including Thailand, Vietnam, Malaysia and Indonesia, have also recently relaxed their entry restrictions, but all still require some form of testing, quarantine or insurance. Hopefully in the coming months they will also follow the example of Cambodia and remove the remaining restrictions…
In the meantime, here are just a few reasons why now is the time to visit Cambodia, the first country in Southeast Asia to lift all COVID restrictions:
Experience Angkor Wat without the crowds and with never-before-discounted entry prices
Unlike the pre-COVID-19 times, when the Angkor temples welcomed thousands of visitors and it was a challenge to find the peace and solitude that many longed for, there are now only a handful of international visitors buying tickets each day . That means you'll experience the Temples of Angkor in a way never seen before, on your own and without the crowds. In addition to this unique opportunity, admission prices have been discounted through December 31, 2022. Previously the cost of a one-day pass was $37, now allowing two-day admission, a 5-day pass is also available days for $62 and a 10-day pass. for just $72, which represents excellent value for money.
Visit the amazing Phare Circus in Siem Reap and support their 'Phare Circus Rising' program
The impressive and exhilarating Phare Circus is a "must see" for anyone visiting Cambodia. A unique and entertaining evening is guaranteed as you marvel at these professional artists who will leave you in awe of their skill, passion and commitment to the arts. Arrive early to enjoy the Cambodian Street Food Festival and other pre-show performances before heading to the big top for an evening you'll never forget. As part of their 'Phare Circus Rising' program, they are offering open seating for $10 and reserved seating for just $20 through September 2022, making it the perfect time to visit.
Join a vegan travel adventure in Cambodia with award-winning Vegan Travel Asia
Award-winning Vegan Travel Asia has been leading vegan travel adventures for over 18 years throughout the region and in December 2022 they will add Cambodia to their list of destinations. This 14-day immersive tour will see you explore Cambodia, learn about the Khmer culture and communities, visit and support organizations and foundations that are making a difference, while enjoying 39 delicious and creative vegan meals at the same time. For the vegan food lover, the planet-loving traveler, who enjoys storytelling and adventure, this is the perfect way to explore this incredible country.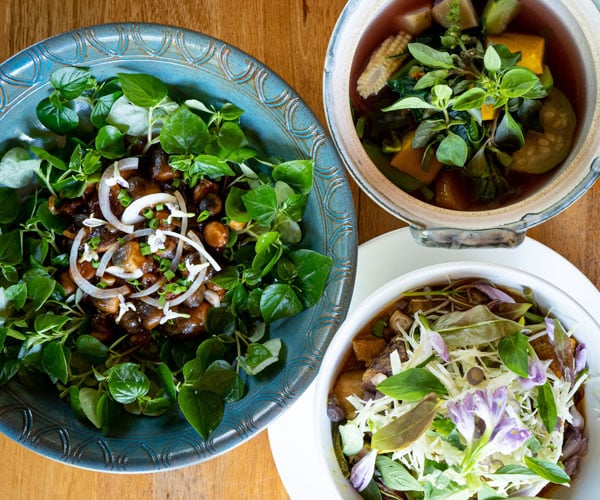 Support a responsible wildlife sanctuary that protects more than 25,000 acres of Cambodian rainforest
Just a couple of hours north of Siem Reap is the Cambodian Wildlife Sanctuary, a veritable oasis of natural jungle habitat that has been saved from the illegal logging that threatens much of the region. Visit during the day, overnight or volunteer for a longer period to support the excellent work they are doing to protect the species, flora and fauna that call it home. Currently home to one male and two female elephants, this is a wonderful opportunity to see these beautiful creatures in their natural habitat, the Cambodian jungle.
Stay at Treeline Urban Resort, reopening April 1, 2022!
The riverside location, beautifully decorated rooms, and lovely contemporary art on display make Treeline Urban Resort a unique and special luxury option in Siem Reap. Add to this a team of staff who really care and whose passion is clear, an eco-friendly and plastic-free approach to modern tourism, and a selection of delicious plant-based dishes that we can't wait to savor again and you won't go wrong. if you choose to stay at Treeline Urban Resort when visiting Siem Reap.
Explore Cambodia on two wheels with Grasshopper Adventures
The team behind Grasshopper Adventures are very excited to welcome you back to 'The Kingdom of Wonder' and have a diverse selection of multi-day tours for you to choose from including the new 'Cambodia Bike, Hike and Kayak Tour' which sounds amazing. . ! As the region's leading cycle touring company, you know you're in good hands with state-of-the-art equipment (they even have electric bikes available) and guides who will make sure you have a unique and exciting adventure.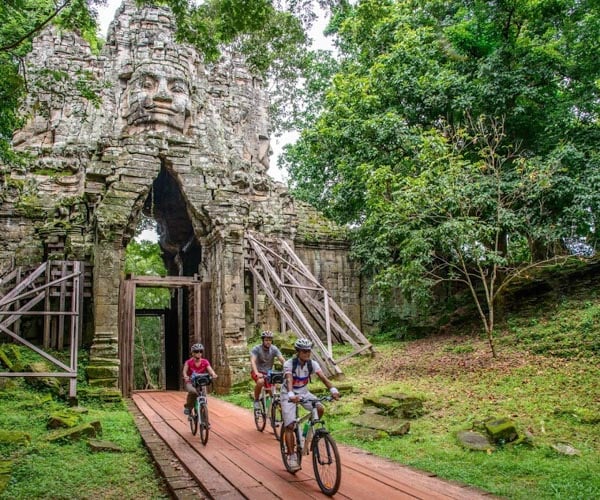 Stay at Shinta Mani Angkor, which will also reopen on April 1, 2022!
Shinta Mani Angkor is located within Siem Reap's leafy French Quarter, just a short distance from the recently revitalized and rejuvenated riverfront. Created by acclaimed innovative architect Bill Bensley, this luxury boutique property offers the perfect oasis and will be welcomed with open arms into Siem Reap's vibrant hotel scene. For those of you seeking unrivaled privacy and the ultimate in luxury, check out the exquisite Bensley Collection Pool Villas, which are so good you'll never want to leave.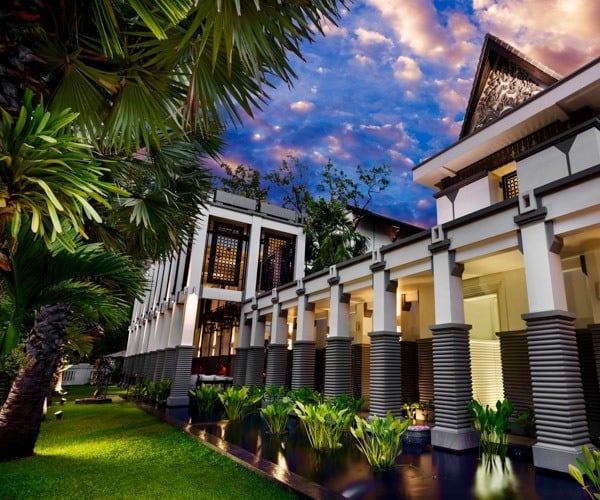 ---
IMPORTANT NEWS:
If you are reading this article somewhere other than A Luxury Travel Blog, then this content was most likely stolen without permission.
Please make a note of the above web address and contact A Luxury Travel Blog to let them know about this issue.
Thank you for your help in the fight against content theft.
---
Please visit Free the Bears and support the excellent work they are doing to protect endangered species in Cambodia.
Free the Bears is located within the Phnom Tamao Wildlife Rescue Centre, just an hour or so from central Phnom Penh. They are a sanctuary for more than 120 sun and moon bears, in fact they are the world's largest sanctuary for sun bears. The talented and passionate team is slowly changing attitudes about how bears are treated in Cambodia and the sanctuary provides hope for the future. If you are passionate about protecting wildlife and native species, please consider volunteering at this excellent sanctuary, your help will be greatly appreciated.
Choose Singapore Airlines for an unrestricted travel experience to Cambodia
As one of the world's leading airlines with the award-winning Changi Airport as its international hub, Singapore Airlines is always a first class and reliable choice. The fact that Changi Airport now allows unrestricted transit for all passengers flying Singapore Airlines, flying to Phnom Penh (twice a day) and Siem Reap (once a day), means that Singapore Airlines is currently the easiest and safest way to travel. fly to cambodia
We hope you'll consider Cambodia for your post-COVID adventure and if you do, please don't hesitate to reach out so we can tell you a little more about why we've called the 'Kingdom of Wonders' home for over 7 years…