It's never good to see a referee lose control of a game, but that's clearly what happened amid all the chaos we saw last night between Atletico Madrid and Manchester City.
Pep Guardiola's team is finished, but the City manager will not be happy with some of the challenges from Diego Simeone's men, as City were injured ahead of some very important games coming up at this crucial stage of the season. .
The German referee, Daniel Siebert, missed an opportunity early on to impose his authority on the game and control the aggressive tactics deployed by Atlético de Madrid.
Foden went up to an aerial challenge, won the ball and Felipe enters him from behind, with no chance of winning the ball. He knew exactly what he was doing: it's a poor challenge and, for me, the referee should have warned the player.
That was an ideal opportunity for the referee to stamp his authority on the game because if you don't do that in the early stages with a challenge like that, he will be seen as a weak referee.
For me it was a clear yellow card; It was a recklessness by Felipe, with no chance of winning the ball.
To be fair, City were a bit lucky later on when the home team could rightly feel they should have gotten a penalty.
When you see the replay you think that Cancelo does not have the ball, he has caught Correa in the shin; there are a lot of bodies there and it's hard for the referee to see them.
Still, is it a clear and obvious mistake or is it subjective, is it a clear and obvious mistake that VAR gets involved?
VAR should only get involved when it's a clear and obvious mistake and obviously they've seen it and thought it's not a clear and obvious mistake, so VAR did not recommend a review of that incident.
Atletico can feel bad though, and I think, combined with the earlier leniency on that challenge to Foden, that's why we saw things fall apart the way they did.
All that chaos stems from that incident, where the referee didn't catch Felipe early in the game.
Marcos Alonso's goal was rightly disallowed: Thomas Tuchel can have no complaints
Chelsea were unlucky not to go through after an excellent performance away from Real Madrid, but there is no justification for Thomas Tuchel to try to shift the blame onto the referee.
Marcos Alonso's goal looked good at first, but it's clear from video replays that it had to be cancelled.
In real time you don't see anything wrong with his goal, but when you watch the replay it just brushes past his hand and obviously puts the ball into the back of the net.
According to rule 12 – touching the ball, a player who scores after accidentally touching the ball, the goal must be disallowed.
Now, if Alonso had passed it to a teammate, who then scored the goal, that goal would have been conceded.
Only the goal scorer can be sanctioned if he accidentally touches the ball with his hand; therefore, under Law 12 on ball handling in a VAR check, it was correctly ruled out that Alonso accidentally handled the ball, where he simply brushed his hand. It is unfortunate, but it is correct in law.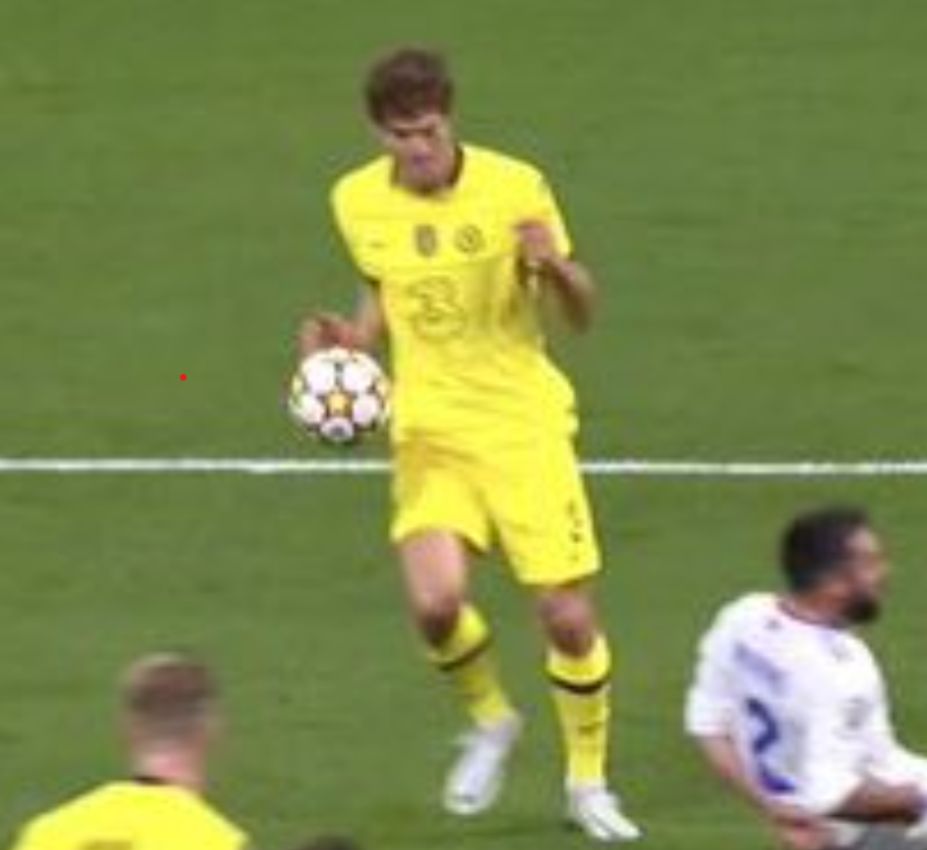 It would have been impossible to see that in real time, so it's not the referee's fault with that incident because you wouldn't see it in real time.
As for the referee smiling at opposition manager Carlo Ancelotti, that happens week after week in the Premier League. It doesn't hurt anyone to be polite and smile. Maybe the coach said something, maybe praising the referee's performance, and he just smiles or laughs.
You often see the referees smiling and shaking hands with the players at the end of the game, so I don't think that's a problem. I think Tuchel is just disappointed with the result: Chelsea were outstanding and had plenty of chances to win the tie, but they came out just narrowly on aggregate, and I think Tuchel is taking his frustration out there.
It was a fabulous game of football, really entertaining, and Chelsea can be considered really unlucky to be out of the Champions League. I don't think there is anything more controversial than that, and there is no need to blame the referee.
Bravo to Anthony Taylor for how he handled Manchester City vs Liverpool
There was talk before the big game last weekend that Anthony Taylor would be a bad referee for Liverpool, but I thought he put in an excellent game.
Aside from an incident involving Fabinho in the second half, Anthony got the big decisions right.
If he had decided to show Fabinho a red card for a nasty challenge on Bernardo Silva, it would not have been reviewed, it would have remained a red card. You could say that perhaps Fabinho was lucky enough to see only a yellow card and not a red one.
If you look at City's second goal by Gabriel Jesus, I think it's an excellent decision by the assistant referee to keep his flag down.
Jesus was left on the side by a matter of centimeters to finish well after an excellent ball from Joao Cancelo, and there should be no questioning the referees about that, with the Liverpool defense simply surprised by the City striker's deft movement.
Goal disallowed to Sterling, clearly offside. You can't argue about that. Offside is a matter of fact and is a fairly easy decision.
Anthony is out of that game and no one talks about him.
If the referee is the talk of a game, rather than the players, it is rarely because of positive reviews, but because of strong criticism. The conversation that follows the game focuses on the excellent football on display, rather than the referee, which is a compliment to Taylor's performance in the middle.