It's been a long year; hell it's been an agonizing time two years! At this point, most of us feel stressed as we try to adjust to the ever-changing "new normal." To completely unwind, make time for yourself, and let go of your day-to-day worries, a luxury yoga and/or wellness tour may well be just what you need and deserve.
Here in remote and surprisingly picturesque Ecuador, we've reviewed our country's best yoga and wellness retreats in each of the country's four regions. They are relaxing getaways that focus on the personal care and attention needed to give your body and mind the strength and peace you need.
Here are the five best retreats that we include in our luxury tours in the Galapagos Islands/Ecuador:
Ecuador's Galapagos Islands: Semilla Verde Boutique Hotel
If nature, science or wildlife excites you as much as yoga, there is no better place to visit than the incomparable Galapagos Islands. You will discover that this legendary archipelago is a truly unique UNESCO World Heritage Site offering the perfect blend of yoga and an unblemished example of a wild, natural world.
Based at the Semilla Verde Boutique Hotel, experienced yoga therapists and somatic educators will be your instructors, as well as your island guides offering a daily class to balance your daily nature-focused activities, where the islands themselves will offer you the opportunity! inspiration!
After your physical and spiritual rejuvenation sessions with a small private group, you can enjoy the islands' rich biodiversity of protected native wildlife, many of which have no fear of humans. Swim with sea lions and benign sharks, spot tiny Galapagos penguins and graceful flamingos, and watch dragon-like marine iguanas and comical blue-footed boobies dance on volcanic rocks. In general, this experience offers the opportunity to connect with yourself and nature like few others.
Andean Cloud Forest: Mashpi Lodge
Situated on a 40,000-acre subtropical reserve in the heart of the rolling foothills of the Andean cloud forest, Mashpi Lodge is a unique hideaway. Regularly voted one of the best accommodations of its kind in all of South America, this boutique accommodation offers an unforgettable experience, combining cutting-edge luxury and immersion in nature.
In addition to practicing your favorite asana on the lodge's cozy yoga deck, enjoy the lodge's Samay ("soul" in native Kichwa) wellness center, a space where attention is highly personalized and life itself is celebrated. This area features a Jacuzzi framed by striking carved wood panels, open to the breeze and sounds of the forest, perfect for relaxing after walks.
Specialized massages and treatments using natural local ingredients such as earth, stones, herbs and leaves from the reserve are provided in an adjoining room, from which guests are left refreshed and revitalized. This wellness area can be accessed via a short path that winds through the lush foliage, offering great opportunities to watch numerous species of birds, relax in the covered outdoor Jacuzzi, and reconnect with the essence of life itself.
Andean Highlands: My Yoga and Wellness Retreat SachaJi
Situated below the towering Imbabura Volcano, yet perched atop the Cusin Volcano, My SachaJi Wellness Retreat offers stunning views of the town and Lake San Pablo. The retreat is also just minutes from the town of Otavalo, which is world famous for its indigenous craft and textile markets, as well as its musicians and colorful festivals.
Sacha Ji's wellness packages are a unique combination of traditional Andean healing techniques, contemporary therapies, yoga and meditation sessions. These are designed to offer an experience of inner healing, wellness and transformation that you won't find anywhere else. The hostel's healing therapies include Andean cleansing, Kawsay Pacha (Andean reiki), relaxation massages, reflexology, Ayurveda, and Lomi lomi. Sacha Ji also offers horse-assisted therapy.
The SachaJi lodge facilities include the "Sweat Lodge", a round space where you will literally sweat. Although this is a form of physical, mental and spiritual healing developed over centuries by different tribes and communities around the world, here it represents the womb of the Mother and her feminine energy (groups only). In addition, you can enjoy an exclusive Jacuzzi overlooking Lake San Pablo, as well as an adjacent "polar pool" that can be used after the hot bath. The benefits of these two pools combined include increased energy, increased circulation, detoxification, and cleansing of negative energy.
The physical design of the lodge is contemporary yet environmentally sustainable, with as much attention paid to the importance of aesthetic sensibility and sublime comfort as it is to the world-class therapies on offer. All aspects of life at Sacha Ji Wellness Retreat are perfectly balanced, and its approach to the human body is appropriately reflected in the style and ethical spirit of the property.
In My SachaJi, time, space and life take on a new meaning. Experienced healers are there to accompany you on your quest for a clearer sense of self and a more perceptive understanding of your life's purpose.
Hacienda Luna Volcán offers visitors opulent accommodations and a full-service spa in a unique setting. As for its location, the hotel/spa is surrounded by 300 acres of land within an Ecuadorian national park, while perched on an Andean slope with a panoramic view of the valley that contains the adventure sports city of Baños. In addition, Luna Volcan enjoys spectacular views of the constantly active Tungurahua Volcano (which reaches a height of 5,016 meters / 16,456 feet above sea level), while being surrounded by mountains and the area's 70 waterfalls.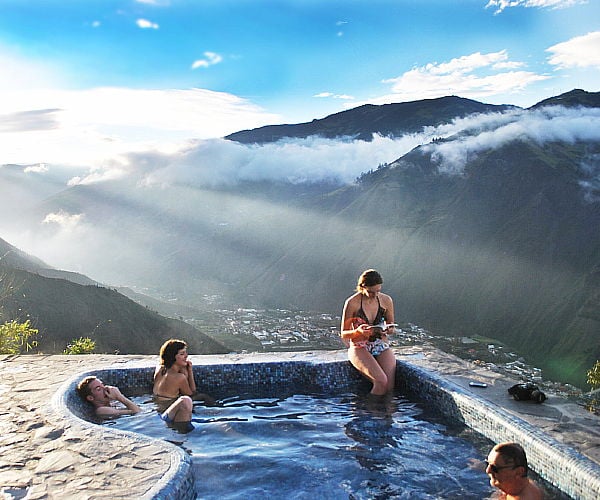 At the same time, the hotel itself has a beautiful spa and four heated pools, all with views of the impressive mountain range and the nearby national park. These pools and plunge pools are filled with hot volcanic waters and are the perfect places to relax, as is the hotel's "Volcanic Spa."
Described as "The best spa in the region," the hotel's 500-square-meter Volcanic Spa is the ideal spot after enjoying any of Luna Volcan's daily adventure tours. In the spa you will relax body and soul in any of its 11 rooms, each one decorated with volcanic stones and works of art painted by hand with colorful mineral pigments that represent the orchids of the area. And don't forget the 25 Volcanic Spa treatments that are available upon request. All of this will allow you to focus deeply on connecting with nature.
La Selva Lodge was one of the first rainforest lodges of its kind in all of Ecuador, paving the way for the unique brand of high-end sustainable ecotourism that has contributed so much to the preservation of the Amazon and many other delicate ecosystems in the entire region.
The lodge has been at the forefront of both rainforest preservation and luxury, making it the ideal place to be pampered and relax, while enjoying all that the Amazon has to offer. The individual suites have been built using techniques adopted by native forest communities, sparing no expense in the level of comfort they provide. Panoramic views, thatched roofs, four-poster beds, and river-view balconies are just the beginning of the story.
In addition, La Selva Lodge has created a truly unique space in which to relax and connect with the natural world like few others on the planet. Towards this, the lodge invites you to experience its soulful yoga sessions. These yoga retreats are unique and range from beginner to expert, regardless of age, stamina, or fitness level. Sessions will be led by La Selva's experienced yoga instructor, either in the morning or afternoon, before or after your excursions with his guidance, or replacing an activity with longer sessions.
Furthermore, inspired by the natural beauty and essence of the Amazon, this lodge situated in the midst of its protected rainforest reserve also offers spa treatments, while its highly-skilled masseuses provide innovative and artisanal treatments that are sure to delight you.
All of this, and more, cements La Selva Lodge's rightful place as one of the premier luxury yoga retreats in all of Ecuador and, indeed, South America.
---
IMPORTANT NEWS:
If you are reading this article somewhere other than A Luxury Travel Blog, then this content was most likely stolen without permission.
Please make a note of the above web address and contact A Luxury Travel Blog to let them know about this issue.
Thank you for your help in the fight against content theft.
---
Ecuador's Pacific Coast: Studio House of the Sun
Montañita is a town on the Santa Elena Peninsula in Ecuador, best known for its beaches with strong waves and its bohemian atmosphere. Lively bars, nightclubs and thatched-roof restaurants line the streets. Located just steps from town, you can find the first and only yoga studio in Montañita: Estudio Casa del Sol ("The Sun House Studio"), an organic bamboo space that hosts a full schedule of varied classes.
All classes at Estudio Casa del Sol aim to incorporate some aspect of the eight limbs of yoga and may include pranayama (breathing techniques), guided meditations, inspiring themes and intentions, chants, aromatherapy, mindful music selection, and more. Seriously focused on yoga, the studio offers daily 60-90 minute classes at all levels in Vinyasa Flow Yoga (including Strong Vinyasa Flow), Yin Yoga, Astanga Inspired Yoga, Beginner and Intermediate Yoga, and posture workshops.
The goal of the studio has been to introduce these practices to the locals while at the same time offering a place for travelers to revitalize their bodies and minds. A team of teachers from around the world keep the weekly classes fresh and new. Meanwhile, incredible instructors who stop by offer workshops and events, which also allow permanent staff the opportunity to further explore the world of self-discovery. For you as a traveler, the goal is for you to leave feeling at peace with your mind, body, and spirit.
What makes yoga and wellness retreats in Ecuador so special is that they take you to the most amazingly beautiful places in nature; And, as countless studies have shown, when yoga is practiced in nature, it strengthens our ties to spirituality, improves our cognitive abilities, measurably helps us de-stress, improves our mood, and helps fight depression. and anxiety. All of this means that a yoga/wellness tour in Ecuador will help you recognize the negative effect that stress has on your body and mind, and allow you to focus on the positive elements in front of you.
Alfonso Tandazo is President and CEO of Surtrek Tour Operator. Surtrek Tour Operator is a well established company, specializing in custom designed luxury tours in Ecuador, Galapagos and the rest of South America.
If you would like to be a guest blogger on A Luxury Travel Blog to enhance your profile, please contact us.